Lula congratulats Alberto Fernández on his electoral victory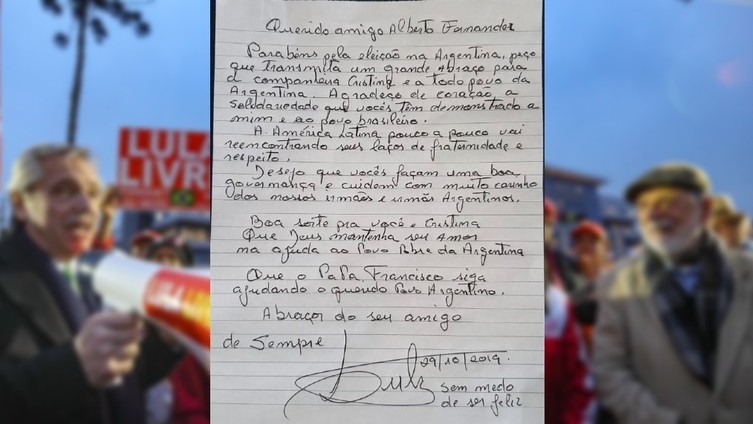 Bulletin 617 – People's Committee in Defense of Lula and Democracy
Straight from Curitiba – 10/30/2019 – 571 days of resistance – 8:15 PM
1. Argentinian president-elect Alberto Fernández thanked former Brazilian President Luiz Inácio Lula da Silva, by way of his social media networks, for the letter congratulating him on his electoral victory last Sunday, October 27th. Once again, he called for Lula to be released. He said he was moved by the words of the former Brazilian president and sent, "warm greetings to our brothers and sisters in Brazil".
2. The south side São Paulo neighborhood of Heliopolis will host the next edition of the Lula Livre festival, with a schedule full of music and poetry in defense of the former President and democracy. The even will be even more important because it will be held in a region which is a national model for favela urbanization.
3. Pública, an investigative journalism agency, interviewed former President Lula on the morning of this Wednesday October 30th in Curitiba. Lula spoke of Rede Globo's recent story showing strong suspicions of a connection between far right President Jair Bolsonaro and the assassination of Rio de Janeiro city councilwoman Marielle Franco, the anti-neoliberalism protests in Latin America and the environment. The interview will be aired in its entirety tonight, October 30th. Watch it here (in Portuguese): https://apublica.org/
4. The "good morning, President Lula," shout on this October 30th was lead by the PT bloc from the Paraná state legislature. The lawmakers Arilson Chiorato, Luciana Rafagnin, Tadeu Veneri and Professor Lemos joined with the activists to greet the greatest popular leader in the nation, during the customary good morning shout.