March 14: Remembering Marielle Franco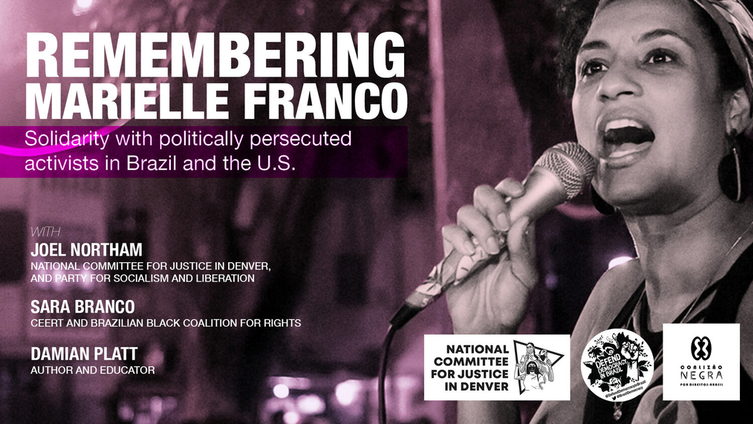 REMEMBERING MARIELLE FRANCO: SOLIDARITY WITH POLITICALLY PERSECUTED ACTIVISTS IN BRAZIL AND THE U.S.
MARCH 14, 2021
1PM Denver, 3PM New York, 5PM Brasilia, 9PM Kenya
Register at:
https://peoplesforum.org/event/remembering-marielle-franco-solidarity-with-politically-persecuted-activists-in-brazil-and-the-u-s/
Facebook event: https://fb.me/e/491AycNQe
Organized by the Defend Democracy in Brazil Committee with The People's Forum
With
Joel Northam (National Committee for Justice in Denver, and Party for Socialism and Liberation)
Sara Branco (CEERT and Brazilian Black Coalition for Rights)
Damian Platt (Author and educator)
With special guest: Anielle Franco, Institute Marielle Franco
Moderated by Juliana Valente – Anthropologist, member of the Defend Democracy in Brazil Committee

Simultaneous Portuguese interpretation will be available on Zoom
This event will also be livestreamed on The People's Forum YouTube.
In this event we will review the key facts behind the brutal and yet unsolved assassination of Rio de Janeiro's Councilwoman and activist Marielle Franco on March 14, 2018, and discuss the ongoing violent political persecution of activists fighting for social justice in Brazil and in the United States. Marielle, among the many social justice platforms that she fought for, stood against the militarization of the police known for brutalizing poor communities in Rio. For this, she paid with her life. We remember her courage and legacy.
To celebrate her life, the Defend Democracy in Brazil Committee in New York brings to the People's Forum a debate on police and militia violence, political persecution, the fight for social justice, for #BlackLivesMatter, and an event of solidarity to activists.
In this event, author and educator Damian Platt will present some of his findings on the plot behind Marielle's assassination, which he examines in his recent book; lawyer Sara Branco, from the CEERT and the Brazilian Black Coalition for Rights will discuss current antiracist movements, violence against Black Brazilian youth and the struggle for justice in Brazil; political activist Joel Northam will present the injustices against peaceful organizers of #BlackLivesMatter marches in Denver, who marched for justice for the police murder of the young massage therapist and violinist Elijah McClain, who was brutally attacked in Aurora, Colorado for being black, and died days later. Along with two other organizers from the Party for Socialism and Liberation, Joel was also brutally attacked and imprisoned in his home in Denver. They are currently being targeted for their right to free speech and for fighting for racial justice, and facing prosecution with threats of several years in jail, by the local District Attorney in Aurora.
We stand in unity with Brazilian lawmakers and activists who seek racial justice, with the National Committee for Justice in Denver, and with freedom and racial justice fighters, to unite and defend the right to protest.
#MarçoPorMarielleEAnderson
#JusticeForMarielle
#DefendDemocracyinBrazil
#NationalCommitteeforJusticeinDenver
#CoalizãoNegraporDireitos
Special thanks to Gladys Mitchell-Walthour, Mariana Olinger, Instituto Marielle Franco
The Defend Democracy in Brazil will also be organizing a ritual :
"Marielle Franco: Spirit of Light and Strength" on March 13, at 6PM in Brooklyn, New York (broadcast on Facebook.com/defenddemocracyinbrazil ). More information to follow.