The Guardian: Bolsonaro leading Brazil 'to slaughterhouse' over Covid-19, says Lula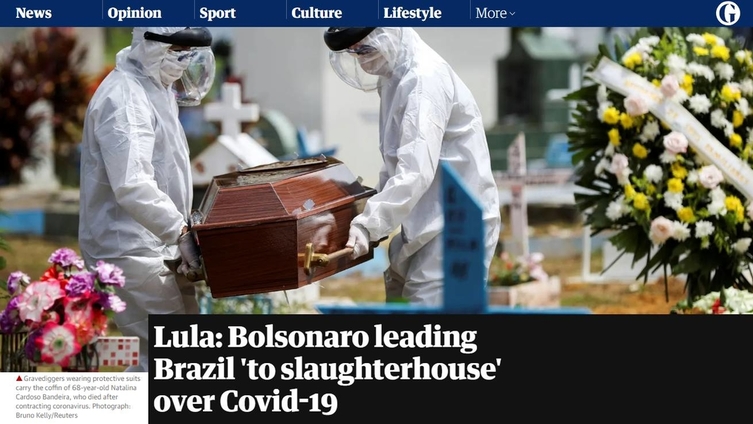 By Tom Phillips

Jair Bolsonaro is leading Brazilians "to the slaughterhouse" with his criminally irresponsible handling of coronavirus, the country's former president Luiz Inácio Lula da Silva has said.
In an impassioned interview with the Guardian – which came as Brazil's Covid-19 death toll hit 1,924 – Lula said that by undermining social distancing and defenestrating his own health minister, Brazil's "troglodyte" leader risked repeating the devastating scenes playing out in Ecuador where families have had to dump their loved ones' corpses in the streets.
"Unfortunately I fear Brazil is going to suffer a great deal because of Bolsonaro's recklessness … I fear that if this grows Brazil could see some cases like those horrific, monstrous images we saw in Guayaquil," said the 74-year-old leftist.
"We can't just want to topple a president because we don't like him," Lula admitted. "[But] if Bolsonaro continues to commit crimes of responsibility … trying to lead society to the slaughterhouse – which is what he is doing – I think the institutions will need to find a way of sorting Bolsonaro out. And that will mean you'll need to have an impeachment."
Bolsonaro – a [a href="https://www.theguardian.com/world/2018/oct/27/dispatch-sao-paulo-jair-bolsonaro-victory-lgbt-community-fear" data-link-name="in body link" class="u-underline in-body-link--immersive" style="background: transparent; touch-action: manipulation; color: rgb(199, 0, 0); cursor: pointer; border-bottom: 0.0625rem solid rgba(199, 0, 0, 0.4); transition: border-color 0.15s ease-out 0s; text-decoration-line: none !important;"]proudly homophobic former army captain already despised by progressive Brazilians for his hostility to the environment, indigenous rights and the arts, as well as his alleged links to Rio's mafia – has alienated millions more with his dismissive stance towards the coronavirus, which he belittles as media "hysteria" and a "bit of a cold".
Read the full article on The Guardian